Although you may think finding cheap auto insurance can't be done, it's actually not impossible. If one of your New Year's resolutions was to save more money in 2013 and you're also looking to buy a new car, you'll be happy to find there's a wide assortment of vehicles fairly cheap to insure.
Whether you need a mini-van to haul a family or you're going green and want a Smartcar, the cheapest cars to insure in 2013 are diverse and regardless of what you're looking for, there's something for everyone on the list, and these vehicles
tend to pop up year after year as being some of the most economical vehicles to insure, maintain, and sometimes, even both.
Here's a list of some of the cheapest to insure, and it's likely that this year and even 2014 that we'll keep seeing many of these same cars that continue making the list year after year!
1.) Ford Fiesta
The Ford Fiesta is a steal itself, with a base price of just a little over $13K. It's also becoming known as a reliable vehicle as well, so when that's partnered with cheap insurance rates, the Fiesta is starting to look like more and more of a reason to celebrate.
Most likely, it's cheaper to insure because of its standard safety features, which luckily you don't have to miss out on any even with such a low price tag.
2.) Smart Fortwo
For only about $12K, you can get a car that looks like it belongs in a European country. Not surprisingly, Mercedes owns Smart, and while some luxuries are sacrificed in this 2012 model, it is extremely cheap to insure. Smartcars have been known for being economical when it comes to premiums, but the safety features found in this car are just as good as a vehicle's that's twice the size.
Known for easy maneuvering, this car is also likely cheap to insure due to its easy handling, making it easy for drivers to 'get out of the way' and avoid accidents.
3.) Chrysler Town and Country
In 2011 the average premium on a Town and Country was only a little over $1,000 a year.
Having been around since the 1980s, Chrysler has been able to perfect this ultimate mini-van and with extremely high safety ratings and great safety features, the Town and Country maintains its position as one of the cheapest cars to insure.
4.) Toyota Sienna and Sienna LE
With average annual premium only $8 more than the Chrysler Town and Country, the Sienna is yet another mini-van that holds high safety ratings.
So high in fact, that the third generation Sienna was the very first to receive an award as "Top Safety Pick" from the Insurance Institute for Highway Safety.
Available with a different trim level, all wheel drive and a V6 for those who are racing towards vacation, the Sienna LE is only $8 more to insure a year on average than the base model, making both an extremely cheap car to insure.
5.) Honda Odyssey LX
An attractive shape, a larger body, and lowered roofline make the LX a minivan that's not only one of the more attractive options for a van, but it's also a smooth ride with front disc brakes and a six speed automatic transmission.
The annual premium on average is just a little over $92 a month, so even if you do spend a little more in gas due to the nice transmission, you'll still get a deal somewhere.
6.) Nissan Murano SL
The Murano SL is like the Sporty Spice of crossover vehicles,
as it's possibly the sportiest crossover that still manages to get cheap insurance premiums despite its style and many features.
Boasting advanced safety features, the annual average premium only comes in at about $1,128.
7.) Ford Escape XLS
If you're looking for a larger vehicle that's not a mini-van, the Escape is a great alternative and is becoming largely known for its affordable insurance premiums.
For only $1,150 on average to insure a year, this handy SUV is one of the most sturdy and reliable SUVs and its affordability is a huge plus.
8.) Toyota Highlander
If there's a special place in your heart for foreign vehicles and still want an affordable insurance bill, check out the Toyota Highlander.
It is likely to cost you a fair amount in gas, so if you have a lot of driving to do regularly, especially city driving, then it may not be the most economical choice for you, however it is jam packed with lots of extra features and amenities, including some great safety features, which is part of the reason the annual premium on average is only $4 higher than the Ford Escape premium, coming in at $1,154 on average.
9.) Jeep Wrangler Unlimited
If it looks like a Jeep and drives like a Jeep—it's going to have a good insurance premium.
Known as one of the better 4 wheel drive vehicles available, the annual insurance premium annually for the Jeep Wrangler is only $1,131 on average.
Still a very good rate on place number 9.
10.) Honda Odyssey EX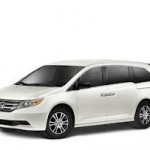 Another minivan takes a place on the list of cheapest cars to insure, the EX is one of the most attractive
minivans on the market with its sharp looks and comfortable amenities and features.
With a look that's a departure from most minivans, the annual premium is also a departure from high insurance premiums, coming in at only $1,138 a year.
Of
course, remember that insurance premiums are not only dependent upon the vehicle but also on many other factors. The insured's driving record, insurance history, credit rating, number of accidents and claims, and coverage chosen largely impact the final premium. In addition to keeping a clean driving record and carrying continuous coverage, you can also look for general ways to keep your premium low, such as asking about discounts and carrying a higher deductible if possible.
More than anything, the individual factors that insurance companies consider when determining premium are going to play just as much of a role, if not more, than what kind of car you drive. Of course, if you have a less than perfect record or present some other kind of factor that results in a higher premium, then it would likely benefit you greatly to look into one of the vehicles known for carrying cheap insurance premiums.